Soy is a good thing to eat due to its health benefits and everyone probably knows that. Its so versatile and comes in different forms, that its absolutely amazing how many different kinds of things we can make with it. The tricky part that I feel though.. making it easily and in a way that tastes good.. Tofu is one of the soy products which I am trying to use.. and this is one way I use it, that everyone seems to like.. !! And its very easy and simple recipe..no rocket science here ;) just a little something that I tried .. loved it and shared it.. !! BTW, I have a special search for my soy recipes.. do check out the other posts and let me know what you think.


Ingredients:
--------------
1 pack of extra firm Tofu

2 tablespoons - soy sauce
2-3 teaspoons - ground black pepper
lime/lemon juice
salt to taste

Spicy Indian Variation:
----------
To make this more spicy, try this :
1 tablespoon ginger+garlic paste
1 teaspoon red chile (or cayenne pepper) powder
1 teaspoon coriander powder
Add these with the other things into the marinade.

Method:
-----------
Cut tofu into about 1 inch thick cubes.
Add all the above ingredients and gently mix them with the tofu
Let it marinate for about 30 minutes.

Heat the wok/frying pan and lightly coat with oil/spray some non-stick PAM type thing. Add the tofu cubes and stir fry. Let it fry until they look a little fried outside. Thats when its the tastiest. ..kinda crispy on the outside and soft inside.. Its wonderful side dish or appetizer in any season. I like to serve this with the yummy veggies I posted earlier for grilling/picnic type get-togethers. Sprinkle lime juice and serve hot. Vanishes in no time :) Enjoy !

Serves : 1- 2 people



This recipe goes to the JFI - Soya event that Sia @ Monsoon Spice is hosting -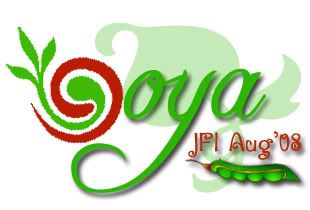 This recipe goes to the LunchBox event hosted by Vandana Rajesh.